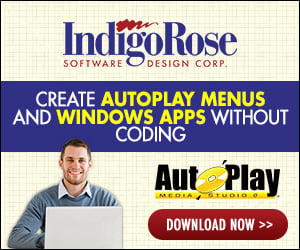 Was about to purchase new version of Autoplay and as I looked through the video examples I noticed something... The versions I've used in the past... Not sure version number off the top... (lost in CD collection somewhere) The older version allowed for transparency in menus and the shape and form of the window it's self. From what I've seen in the new software it appears to be holding to an explorer frame and the shape of the window is rectangular in all examples... So please help me out... What I am stating is that I was able to make a menu window in any shape... Say a donut... and the places that should be see through were... So the center you could see the desktop or what ever was behind it and the outside border would be round... Any close or minimize button was designed and placed where ever you chose to place it... The close button could be a cat on the other side of the screen not any where near the donut... And if you clicked a folder icon on the desktop through the center of the the donut hole, you would be interacting with the desktop... I hope this is understandable... I explain things oddly some times... Please help... I don't want the new version if it doesn't work like this any more... and If it doesn't then the development team needs to go back to the drawing board because they messed up big time... If it doesn't don't tell me it's due to the functionality of Windows 10 and interferes with some function or that the graphical variables create crash errors with certain video drivers or that the newest version of the explorer shell doesn't support that kind of thing any more... I'm the guy that knows the answers to these functions... And if you question that... All I need to say is "Rainmeter". So I hope Indigo didn't change this and I'm just seeing bad examples. This was my go to software for presentations and interactive menu's for CD file archiving... My current project is working on making an interactive resume and thought why not use Autoplay as a representative menu interface system... I have other options but Autoplay has always been that reliable quick and insanely customizable solution for a simple project...

Please someone that knows what I'm talking about, Help...
I don't want to buy something that is not even remotely what I'm looking for...
And I hope they didn't mess up Autoplay... Not many products are worth anything but this was one of the few that I recommended so often...