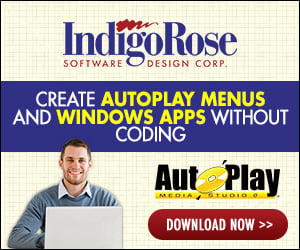 I am going to take it as red that you have already downloaded the Trial version and installed it.
Note:
Get yourself a drink, get yourself comfortable and get your learning head on.
OK this is the first step and might be simple to many people but sometimes its not so simple, for some people and this happens to me a lot that the AMS icon might not of installed on to the desktop, this happens to me when I am pushing the system too much when installing or running clean up software.
So if you don't see the icon
Go to your start menu and find Indigo Rose Corporation click that and then click
AutoPlay Media Studio 8 you will find the icon for the software right there
If you would like to add this to your desktop just right click and go to send to, and select Desktop
Once you open the trial you will get a message telling you its a trail and how many days left of the trial you have
As I am acting like this is the first time we have ever opened this we are going to create a new project.
OK you are sill with me right? well I hope so have a sip of that drink and lets continue, right now you have clicked '
Create a New Project
' we need to select the type of template we are going to use and the project name, like so shown in the next image.
Part One Done: