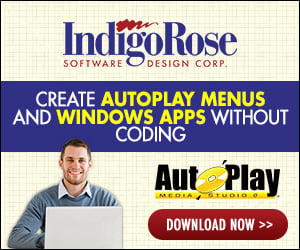 Why is it that my buttons with transparency work fine in the Button Maker (hovering or clicking in the transparent areas) but once they are part of my project the transparency becomes an unclickable area?

For example I've laid out my project in Photoshop and then hidden all layers but my button's up state (which contains transparent gaps in it), I then crop and save it out with a transparent background as a PNG-24. I then do the same for the down state which is also the active state.

I then open up the Autorun MAX! 2.0 Button Maker and browse to the up and down/active states of my button and you can click on the transparency and it registers as a click 100% of the time, I think, "Great!" I save. Then once I place my button in my project and preview it the transparent sections no longer register hits.

I even added a 1% white layer to see if that would aid the hit detection, no dice.

What do I have to do to get the transparencies to register clicks?