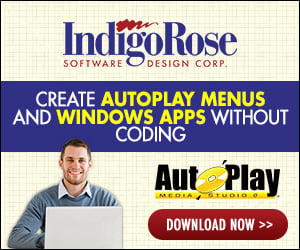 There is a new service release for Autorun MAX! (v2.2.0.0) now available containing bug fixes and feature enhancements. You can download the full install from your customer portal.
Before installing the new version, please uninstall all existing versions from your system.
This release contains the following bug fixes and feature enhancements:
Feature: Added support for Windows 8 based on product testing in the Windows 8 Consumer Preview, and Windows 8 Release Preview.
Feature: Added Windows 8 compatibility GUID to the Autorun MAX! design and runtime manifests.
Feature: Added the ability to move files and folders within the File Layout dialog by holding the Shift key during a drag and drop operation.
Fix: Fixed a bug where very long similar filenames would result in files being left out for publishing to ISO.
Fix: Fixed some issues on the File Layout dialog.
Fix: Fixed a crash bug where the runtime would crash if there were no background audio tracks and it was set to repeat in random play mode.