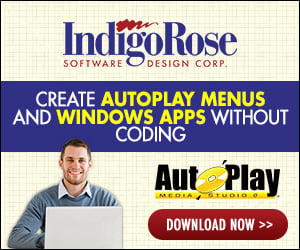 Using AutoRun Max, I created business card CD's and distributed them to 300 people. The CD contains video, pdf files and links to email me and to open my website. The autorun.inf file is in the root directory of the CD, as is the AutoPlay folder.

When I put the CD into my Windows 7 laptop or my Windows 7 desktop, I get two Windows Autoplay options for "software and games" which are (1) Run the .exe file or (2) Open folder. I select the run option and my CD created with AutoRun Max plays beautifully. However, some people are calling me saying that they cannot get the CD to play on Windows 7. Instead of the "software and games" options for AutoPlay, they are getting Windows "mixed content" options, which does not include the choice to Run the .exe file. They have struggled to find a way to get these to run.

These business cards CD's should be simple to use, or they are useless. I cannot tell my potential clients to reconfigure their Windows 7 AutoPlay options, they are not computer literate.

Any suggestions from other Windows 7 users?