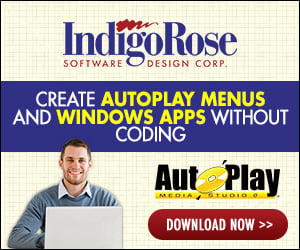 What is Autorun MAX?
Autorun MAX! gives you the power to create professional looking CD-ROM/DVD-ROM autorun menus and other interactive multimedia projects that are sure to impress. And you don't have to be a software programmer to do it. With its intuitive workspace and drag-and-drop objects, it's quick to learn and easy to use. Autorun MAX! requires no programming knowledge whatsoever! You'll be amazed with the powerful functionality and stylish visual appeal that Autorun MAX! puts at your mouse-clicking fingertip.
What Can I Do With Autorun MAX?
Autorun MAX! makes it easy for anyone to create professional looking interactive multimedia software. With its easy-to-use visual design environment, you don't have to know a thing about computer programming. If you can use a mouse, you can create dazzling projects with Autorun MAX! Some possibilities include:
CD-ROM autorun / autoplay menus.
Electronic CD-ROM Business Cards
Scrapbooks
Travel Journals
Invitations
Brochures
Demos and Walkthroughs
Much more - the kinds of projects you can make are limited only by your imagination!
Home Edition or Business Edition?
Autorun MAX! Home Edition comes with 100 pages available for your project and publishing options to output to a Hard Drive Folder, or burn to a CD-R/CD-RW.
Autorun MAX! Business Edition includes everything in the home edition plus 250 pages available for your project, publishing to Web/Email Executable and ISO CD-ROM Images. Additionally, you can turn off the Autorun MAX! credit screen (or replace it with your own logo/image).
Note: The Home Edition is licensed for personal use only. You cannot distribute any of the projects you create for any purpose that is commercial, organizational or business related. However, you're free to distribute your CD's to friends and family. For business use, you'll need to purchase the Business Edition.
Getting Started
Autorun MAX! was designed to be intuitive and easy to use, but that doesn't mean you won't run into the occasional roadblock. The following tools are at your disposal when you need help:
The Autorun MAX! User's Guide
The Autorun MAX! User's Guide is written to give you an overview of the most important features of Autorun MAX! and how to use them. It includes lots of screen shots for "at-a-glance" explanations. This resource can be accessed either from the Start Menu in the Autorun MAX! program group, or from within the application by choosing Help > Autorun MAX! User's Guide from the program menu.
The Help File
The Help File contains detailed entries explaining the program's many features, including a ton of great tips! The Help File is context specific, meaning that when you open it, it will automatically present the entry relevant to whatever you happen to be working on. Of course, the Help File is also fully searchable, so you can enter a topic or keyword to locate the information you need! To access the Help File, choose Help > Autorun MAX! Help from the program menu, or from the Start Menu in the Autorun MAX! program group.
Online Support Forums
This is where you are right now! Here, users of Autorun MAX! discuss problems they've had with their projects as well as the solutions that worked for them. Chances are, you'll find helpful discussion for your own project challenges.