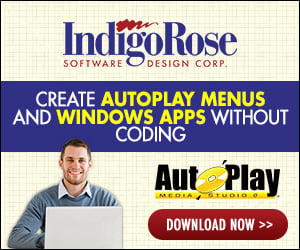 When I came across both SUF and APM, I thought wow, what great products.
Its not often I come across other products which I feel I can rave about --- until now.
Ever wanted to easily create marketing videos, training videos, fun videos? You gotta have a look at Serious Magic's Visual Communicator Pro.
http://www.seriousmagic.com
The cost of the product is peanuts, and although it's not TV presentation material, is perfectly acceptable for online videos of this type.
I created my first releasable video in under a couple of hours and whats more, it was fun to do. The only downside of it all is that my Company was also staggered by what it could do and I am getting lots of requests.
I am in no way connected to Serious Magic and hope I don't contravene any of this Forums T & C's. (If so, feel free to remove), but am posting as I reckon there will be some of you out there who will be impressed.
Incidentally, I will also be recommending Indigo Rose's excellent products on the Serious Magic site too.
Regards
Chris