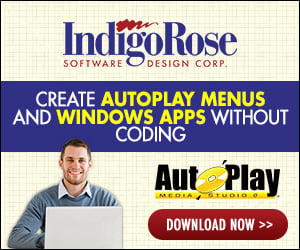 http://www.cnn.com/2003/TECH/biztech...otection.reut/
Amazing. Just amazing.
SunnComm, which trades on the Over-the-Counter Bulletin Board, said it has lost more than $10 million of its market value since Halderman published his report.

I too lost $100 during that very same period...
SunnComm alleged Halderman violated criminal provisions of the Digital Millennium Copyright Act in disclosing the existence of those driver files.

The motto of Sunncomm is "Light years beyond encryption".
I'm not sure what Mr. Halderman's motto is. My motto is, "Light years beyond doing the laundry..." Draw your own conclusions.
Oh yeah speaking of drawing we had our first monthly giveaway draw winner today. I can't publish the name yet but they won a free
Liquid Cabaret
CD ROM volume of their choice. Make sure to get your new entries in folks, draw goes again in a few weeks and next month's prize is ultra cool...
Corey Milner
Creative Director, Indigo Rose Software