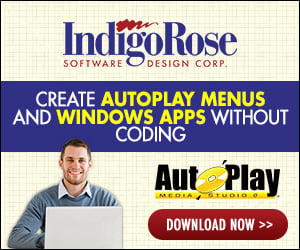 OK so here's another Indigo Rose video tutorial. This one is dual purpose, it teaches you how to use functions from within your flash objects and how to format numbers for currency at the same time. Enjoy!
As always you need quicktime 5+ to watch this video, if you don't have it, get it here for free:
Click here for quicktime player
You can get the project files simply by click "attachment" under my name to the left. You can get the video tutorial movie here:
Click here for the movie
As always all feedback and follow ups are welcome. I know this one might be a bit confusing if you haven't used functions before but this is a great way to unlock some serious power in your AutoPlay Media Studio applications so it's worth learning. If you combine flash functions with AMS page inheritance you can basically have an entire "suitcase" full of resuable code accessible from within your entire project which you can edit anytime. That means you can come back to a huge 100 page catalog from 6 months ago, and in 5 minutes set it up with all your current values. Now that's the power of AMS!
10767-convert_to_currency.zip
Corey Milner
Creative Director, Indigo Rose Software