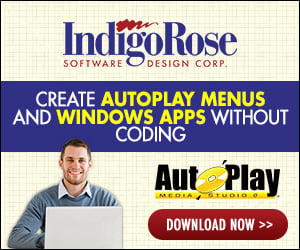 Hi, purchased V4 after testing V3 demo, generally impressed but there are a few issues that I really need to sort immediately - any help appreciated.

1: MPEG videos cause lag between opening pages. Not a huge issue but vastly annoying when you have set up your video to seamlessly move from animation to a still image. Basically on closing the Mpeg page, screen goes black before moving to next page no matter what Ive tried. Likewise moving from menu page to another MPeg page causes page to black out before vid starts.

Worked fine with AVi's in V3, I think it may be initialising media player or something that is causing it. Any ideas on how to minimise this problem? I tried hiding the media player on stream finish, and unhiding an image to cover the media player but neither will cut it. Also at times a media object will fail to initialise video at all, leaving you with a blank screen - music keeps playing tho. Using MPEG1.

2: I have a large turorial Cinepak avi that is clickable to return user to menu. Worked fine in all instances in the V3 demo, but now in V4 on win 98, clicking video exits the whole presentation, even though AVI click action is set to return user to menu page. If I let the movie play through, the "on finish" action seems to work OK and returns to menu page as specified.

Ended up working around it by placing external controls below the video and disabling mouse click actions on the AVI itself, but still not an ideal situation.

3: Occasionally, usually when working with mpeg media player objects or performing a build, the program seems to get stuck in some kind of loop, locking user out and flickering away like a mad flickery thing. Easy enough to get out of by hitting then canceling Windows shutdown but annoying and bodgy to say the least.

I'm using Win2kPro to build.

Help Please!