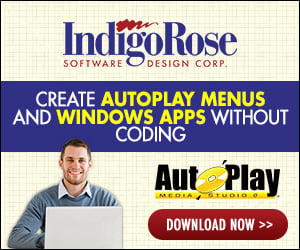 OK so I am working (evenings and weekends only) at producing a few training CDs for AutoPlay Media Studio, the first being, "Creating Windows Software Applications Using Macromedia Flash MX and AutoPlay Media Studio".
Let me know what you guys would want from this CD, what are your priorites vis-a-vis flash and AutoPlay Media Studio? Most importantly though, the last chapter is a few "hands-on" projects, what would you guys like to see there? i.e. "Build an advanced MP3 player", or "Build an image catalog", etc.
Let me know... I am also doing a small affordable series called the "Hands-on" series in which each CD explores building a different advanced application using pure AMS, or flash, or even PHP/MySQL so any suggestions for those are also welcome.
As always I'll do my best to fulfill all your requests.
Corey Milner
Creative Director, Indigo Rose Software