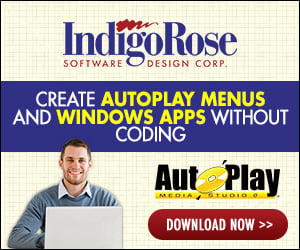 Hey everyone, this is my first Post. I just installed the Trial and it looks to be really cool. Cudo's to Indigo Rose!

I will be making the full purchase!

I'm trying to create a portfolio CD-Rom that uses mostly flash but calls on video files at certain portions. I can't get the Video to play properly as I am hiding it onShow but when I call it with an FSCommand, it stutters with the flash as they are both competing for the front of the (z order?)

My only work around that I can think of is displaying the Video on an alternate page and sending an FSCommand to go to that page and play the video automatically. What I can't figure out is how to get the user back to the main page and same frame they were on in the flash file on the End of the video. The frame is on the main timeline so I know I could target it from the specific page but how can i target it from another page?

Any help would be great! Is their any other options to get this video to work that I'm missing?