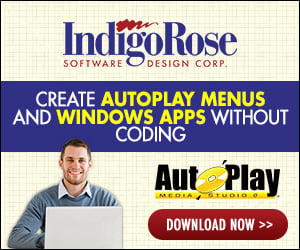 I just couldn't contain my glee... So excuse this gushing post.

Tonight I discovered the tremendous power of the custom variable in AMS. I must say it's darn intuitive to use, as I've come to expect from the rest of the program.

I have a project with various intro. videos that play automatically when a user visits a page for the first time. However, on subsequent visits, I didn't want the video to play automatically. Through some simple implementation of the custom variable it made my idea work seamlessly...

1) On project initialization, set custom variable for each video to be played (i set a played status="no")

2) On page initialization, hid both the video clip and its image for "click here to play again"

3) On page show, used if statement to check variable for appropriate video name, if set to "no", show video, play video, then set status to "yes", else, show the "click here to play again" image, endif.

Note, I also set an "On End of Stream" event to hide the video and show the image.

4) Then on subsequent page visits during the same session, the if statement delivers directly to the "click here to play again" image.

Took me a few tries to get the order of stuff proper, but man, is that a snazzy little feature! What a nice touch to be able to deliver a project that won't annoy the heck out of my client with repeated videos time after time.

Just one more reason why AMS is such a tremendous product for the video producer looking to branch farther into multimedia!