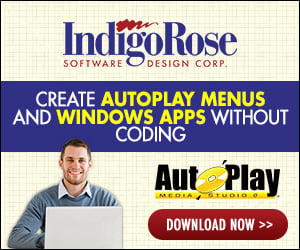 Hi Everyone,
These are some of the things that I am not sure of regarding ams4.
Problem 01:
User wanted to control the video using externally created buttons which also consists of a rewind and fwd button that allows them to rewind and fwd the video frame by frame(if not bit by bit), they also wanted a video progress bar to indicate how far more before the video ends.
My Solution/Workaround 01:
Since the rewind and fwd function in ams is use for seeking of video to beginning or ending and I can't find a way to use an external video progress bar, hope that the user will be happy with Media Player Object.
Problem 02:
User wanted background music.
My Solution/Workaround 02:
I have no problem putting in the MP3 and loop it except that what is the difference between "On Show" and "On Initialise"? I have a page that is use for playing video, how do I mute the music when that page is click and unmute when user leave this page?
Problem 03:
User wanted to have a slide show(3 images) beside a products description page.
My solution/Workaround 03:
I have created the slide show into an .exe, which Object do I use to paste it into my page? Since Text Object doesn't allow bold....etc. I created the product description into a .html and use Web Browser Object. Inside the html there is an email and URL link. How do I perform an "On Mouse Click" so that I can run the "email client present" and "internet connection present" script?
Problem 04:
Project is using oval shape buttons and colourful background(also PNG). The buttons was created in Photoshop and save as PNG 24 with Transparency turn on, however when I try to use it in ams4 with Transparent background turn off, the button background is white and with Transparent background turn on, the buttons has obvious and jagged edges that doesn't blend nicely with the colourful background.
My Solution/Workaround 03:
What I did was to crop the buttons together with the background and then use it in ams4 with Transparent background turn off and align it back accurately. Any faster way of doing it?
Problem 05:
I notice that whenever the application quits, it will show the desktop for a brief second before my Credits Screen(Project Settings -> General) pops up. Is there a way to make that more seamless or is there an even better way to show the Credits Screen?
Problem 06:
May I know why the Page Size is 790X545 and not 800X600?
Problem 07:
Is there any way to optimize delivery of ams4 files from CDs? Read this file for more details.
http://www.macromedia.com/support/au...imizing_cd.htm
I would like to thank everyone in advance. Any help is greatly appreciated.
Regards
OKT