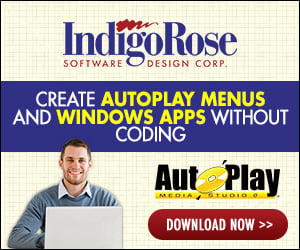 Question:
I simply want to :
1- Use a start page with some graphics.
2-Overlaying this page there are several pictures
with an action to do (play a movie file).

3- When I click picture ( link ) to play a mpeg or avi file
the main APMS window close , and media player pops up
and plays the movie.
4- When I maximize the main APMS window I wish I could
have the background sound back...but I cannot!!!
Completly silence.
Any hint how to do this ?
Thanks a lot


Below is a paste of another post that I followed, but...
I got lost.

PASTE:
Copy the MP3 you want to play into your Distribution folder. You can do this easily by just dragging it onto the Distribution Folder Bar on the main AutoPlay Media Studio screen.
Select the Settings item from the Project menu.
Click on the Actions tab.
Make sure "On Initialize" is selected in the drop-down (it should be selected by default).
Find the "MP3" category (it looks like a folder) in the list on the left, and double-click on it.
Drag the "Load" action from there onto the action list on the right (the big white space under the word "Command"). The MP3 - Load action properties dialog will appear automatically.
Click on the Browse button (located to the right of the "MP3 file to open" field) and select the MP3 file that you copied into your Distrubution folder. (If it isn't there, you didn't copy it yet, or you didn't put it in the right place.)
Click OK.
Drag the "Play" action from the MP3 category on the left, onto the action list on the right. Make sure it ends up below the "Load" action that you added before.
Click OK.