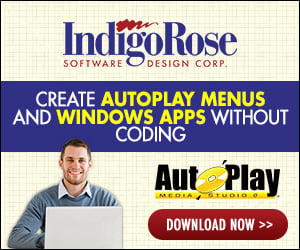 Is AutoPlay Media Studio the best software for my needs and skill level? I need help deciding, and will value any constructive input.

I am a published author and designer moving toward self-publishing my work as e-books on CD-rom. Initially, I plan to publish only for Windows users. I have no programming knowledge, but I am moderately computer literate. I have designed several web sites using MS FrontPage, and I produce digital video and digital images on both Mac and PC.

I'm looking for software that will let me produce e-books that contain text, sound, digital images and instructional digital videos. I would also like the end-user to be able to print out patterns from PDF files. I want the end-user to be able to use this book directly from the CD, without the need to install anything on their hard drive (excepting widely used readers for PDF, Flash, etc.)

After extensive research into multi-media authoring programs, I have nearly settled on AutoPlay Media Studio. I've read through the web site and much of the forum, and downloaded the trial program. I just need a few questions answered to help me better conceptualize how the software works.

I began by searching for software that would allow me to burn a multimedia web site to a CD-rom. However, I was told the many variables in computers and browsers would give me zero control over how my work looked to the end user. Hence my search for multimedia authoring software. However, I see in APMedia Studio that one of the templates is for a browser. Does this browser exist independently within the finished project, or would it call on whatever browser the end user has installed? If the browser is within APMedia Studio itself, would this imply that web pages could be imported into a Media Studio project?

Is there any way to create transition effects, like fades or barn doors, between the pages in an APMedia Studio project? Or do the pages simply appear on the monitor, one after another with no effects, as they do in a web site?

Is a project published to a CD-rom with APMedia Studio encrypted in any way? How do you protect an APMedia Studio project from piracy?

Has anyone used Swish files in a MediaStudio project? Swish says it's capable of exporting a file as SWF, indistinguishable from a file actually produced in Flash, but I'd rather hear from someone that has used it in MediaStudio.

And lastly, is APMediaStudio, as its web site claims, something that can be mastered by anyone that can drag and drop? Or will I find myself, weeks hence, dissolving bottles of aspirin in a quart of vodka as a means of "tech support"? Enlighten me, ye with experience!