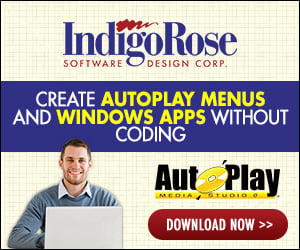 I recently downloaded this great software (trial version) and think it would be great for my company's presentations. I have sent a detailed report to "the powers that be" about purchasing the current version and really hope that they take my suggestion.
In a short time I have pretty much mastered my way around the interface. Something that I did notice tho however was that there was no simple quick and easy way that I could find for me to copy a shortcut from an AutoPlay Menu CD to the currently logged on users QuickLaunch Bar.
I've pretty much looked everywhere in the forum for a clue as to how to do this, to no avail. I have some shortcuts to some files that are on every users harddrives in the same place. I want to put a shortcut (already created the shortcuts and included them in the Distribution Folder) into the currently logged on users QuickLaunch Bar. But I am having problems finding out how to tell AMS to locate the currently logged on users QuickLaunch Bar.
Once I can tell AMS how to locate that, I can easily copy the required shortcuts to the QuickLaunch Bar. Any suggestions? Is this maybe a feature that is not allowed in the trial version?
It would be great if there was a %Variable% to locate the currently logged on users Local Settings folder (C:\Documents and Settings\<Current User>\Local Settings) as this folder also contains a folder for Temporary Internet Files (cache), History, and the main "Temp" folder that a lot of programs decompress (unzip) to. Upon completion of a project you could then tell AMS to clean out the "Temp" folder of any install files that you may have created while doing an install.
Yes, I know that AMS is not the "perfect" solution for doing an install of software and that I should be using SetUp Factory for that. But, the main project that I was investigating this for, is best done with AMS and as an aside, I can install a few necessary things with AMS using the File-Copy feature.
After reading for the past two days all the posts in this forum, if Corey or Worm can't come up with a suggestion on how this can be done, then I know it can't be done with AMS. I feel that I know everyone like close friends or next-door neighbors from reading all of the banter back and forth from early 2001 to present. You guys rock!!! LOL
P.S. And oh, by the way....I am using AMS v.4.something (trial version) and Microsoft Windows XP Professional with Service Pack 1 and all current hotfixes and that will also be the target system. Hope I've explained this completely and well...I do so hate it when I read the posts that people don't really explain the problem well and you guys have to guess at a solution. LOL
Well, that's it. Thanking you all in advance for your wonderful software and the help that you all give the new people (like me) in this forum. I've learned a lot from reading every post for the past two years...in the past two days.
Respectfully Submitted,
Majoe_Moe
[email protected]
Certified Computer Tech & Consultant
Oh yeah, such a long post and I'm a newbie here, so no fancy user pic and no sig. Kinda sucks, but gotta keep working, no time for the little things in life right now (heavy sigh).