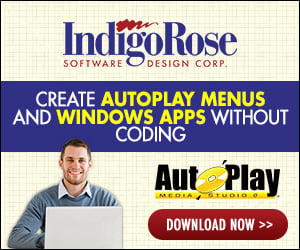 HOWTO: Hide the Window Border
Document ID: IR04001
---
The information in this article applies to:
AutoPlay Media Studio 4.0
---
SUMMARY
This article describes how to make an AutoPlay Media Studio 4.0 application that does not have a window border.
DISCUSSION
Sometimes you want to make an AutoPlay application that doesn't have a window border or title bar. To accomplish this:
Load your AutoPlay Media Studio 4.0 project.
Select Project | Settings from the menu.
On the General tab, uncheck the Title bar and Border options.
Here are a few pointers to remember when creating an application without borders:
Make sure that you use a background image, color or pattern that will standout against the user's desktop. You may want to build a "border" into your background image.
Note that the user can still move your application around the screen by left-clicking their mouse on a non-object part of the background and moving the mouse.
Make sure that you put an exit button on your application so that the user can close it down since there will not be a title bar with an X on it.
MORE INFORMATION
Read the topic
Command Reference | Project Settings | General tab
in AutoPlay Media Studio's online help.
KEYWORDS: border, window, title bar, project settings
---
Last reviewed: September 17, 2002
Copyright © 2002
Indigo Rose Corporation
. All rights reserved.