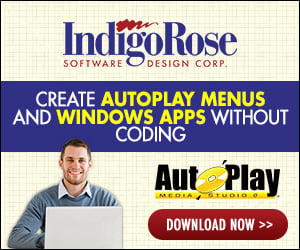 INFO: AVI Video Recommendations
Document ID: IR04003
---
The information in this article applies to:
AutoPlay Menu Studio 3.0
AutoPlay Media Studio 4.0
---
SUMMARY
This article provides some guidelines about how to get the best results when using AVI videos within your AutoPlay applications.
DISCUSSION
Here are some general tips that will help to ensure high-quality AVI playback within your AutoPlay application:
Use lower quality sound, 8-bit mono MCI. Do not use a codec.
Use a codec that ships standard with all Windows operating systems:

Intel Indeo (IR31 or IR32)
Supermatch Cinepak
Microsoft RLE (MS-RLE)
Microsoft Video 1 (MS-CRAM)

You will probably achieve the best results with either Intel Indeo IR31 or IR32.
Make sure that the data rate of the audio and video combined are around 300k/sec.
Reduce the frame rate of your video to 15fps and depending on the codec use compression.
Keep the file small...320X240 is about the biggest you should go.
Use a key frame every 15 frames. That should keep your video playing smoothly.
KEYWORDS: AVI, playback, data rates, codec, frame rate, key frame, Intel Indeo, Supermatch Cinepak, Microsoft RLE, Microsoft Video, IR31, IR32, MS-RLE, MS-CRAM
---
Last reviewed: October 3, 2002
Copyright © 2002
Indigo Rose Corporation
. All rights reserved.