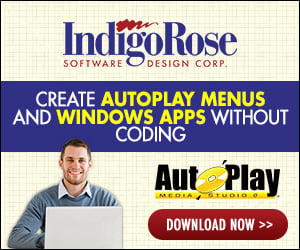 INFO: Using GIF images
Document ID: IR04005
---
The information in this article applies to:
AutoPlay Menu Studio 3.0
AutoPlay Media Studio 4.0
---
SUMMARY
This article will discuss GIF support and LZW compression in AutoPlay Media Studio 4.0.
DISCUSSION
AutoPlay Media Studio does not support the GIF file format nor does it support any image file that uses LZW compression.The LZW compression algorithm is owned by Unisys Corporation who require that a royalty be paid for the use of this algorithm.There is no royalty required to view a GIF image, but in order to embed the GIF image in an application a royalty is required. For AutoPlay Media Studio to embed a GIF image a royalty would be required every time a GIF image appeared in our runtimes.The cost would grow exponentially large as more and more of our runtimes were distributed around the world. We feel that the extra cost associated with deploying GIF images is not worth the extra cost that would have to be passed on to our users.

MORE INFORMATION
Unisys LZW License agreement
cloanto.com article
KEYWORDS: GIF, LZW compression
---
Last reviewed: Sept 24, 2002
Copyright © 2002
Indigo Rose Corporation
. All rights reserved.