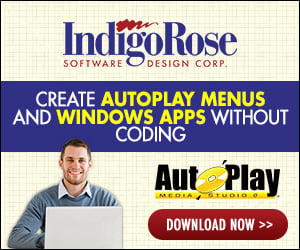 What's New in AutoPlay Media Studio 5.0?

AutoPlay Media Studio 5.0 comes with dozens of impressive new features, a redesigned workspace and an incredibly powerful "script" engine that's easy to use yet capable of handling just about anything you can dream up. Paired with a new content "gallery" containing hundreds of images and sounds, more high-level actions, new objects and vastly improved audio handling, AutoPlay Media Studio 5.0 is more than just a run-of-the-mill upgrade. In fact, it's a revolution in "RAD" multimedia/application authoring tools… AutoRun Menus, CD Business Cards, Computer Based Training, Application Development, Demos, Walkthroughs, Presentations, Testing, Utilities, Applets, Custom Web Browsers, Marketing Promos, Catalogs, Resumes and just about any other multimedia task you can dream up. Don't be held back by your choice of tools – if you can dream it, you can do it with AutoPlay Media Studio 5.0.

Standard Edition vs. Professional Edition
With the introduction of AutoPlay Media Studio 5.0, you can now choose between a "Standard" or "Professional" edition. The Professional Edition is the logical upgrade successor to AutoPlay Media Studio 4.0, as it builds on the capabilities of that product. The Standard Edition is targeted towards smaller projects up to 250 pages in size, that don't require the extra objects and flexibility that we've built into the Professional product. The Professional Edition includes more objects such as web browsers, input fields, list boxes and hotspots plus the addition of plug-in objects, more gallery content, seven simultaneous audio channels, 2500 pages, timer events, flash object interaction, dependency checking and over 360+ actions to handle just about any task you can dream up.

Improved Workspace
The all-new visual development environment features a fully customizable workspace. It's complete with moveable "panels" that can be stacked, pinned, tabbed, resized and docked at will. Audition your changes instantly using the new "Properties Inspector" panel. Drag-and-drop media resources into your project using the "Gallery", "System" and "Project" panels. There's also a new "Project Size" meter that visually shows you how much disk space your project requires; a "Page Manager" to quickly organize large projects and an "Object Browser" as well. Even the rulers and grids are improved with color-coded object positions, sub-grids and real-time snapping.

Better Graphics
The entire graphics engine has been replaced with a considerably more powerful system. There is now support for transparent PNG images (complete with alpha shadowing), translucent effects, on-the-fly image resizing and automatic TSD color conversion so that your project looks great on the widest array of systems possible. And since it all happens behind the scenes, all you have to do is concentrate on your design and let AutoPlay Media Studio 5.0 handle the rest.

Getting Started Manual
We listened when you said you wanted more learning resources. The new "Getting Started" User's Guide walks you through all of the fundamentals required to make an impressive, fully functional multimedia application. You'll learn everything from basics like working with text and images all the way up to lessons on audio and video. Each lesson was designed to be concise and teach you important concepts that are easy to apply to your own project. You'll even be walked through important steps such as publishing your application to CD and advanced lessons on getting the most out of AutoPlay Media Studio 5.0. It's provided in Acrobat PDF format for easy access.

More Interactive Objects
Each object has been revised and updated to work smoother, faster and better. The Standard Edition includes the basics you'll need to get started such as label text, paragraphs, images, buttons and video. The Professional Edition comes with even more powerful objects including flash, web browser, input field, hotspot, list box and support for plug-in objects. With new options like rotated text, alpha masked images, custom scrollbar skins and improved video playback, there's something for everyone.

Plug-In Objects (Professional Edition Only)
Thanks to the newly added support for "Plug-In Objects", you'll never be out of date. Simply install an AutoPlay Media Studio 5.0 compatible object plug-in and it appears on your Object menu, just like any of the built-in objects would. So, in addition to the ten interactive objects that are shipped with the Professional Edition, you've now got a whole new universe of possibilities. With choices from Indigo Rose as well as third-party developers, you'll soon be able to drop in specialized objects such as slideshows, image frames and much more.

Powerful Scripting Engine
We've taken the AutoPlay Media Studio action engine and replaced it with an incredibly powerful scripting engine. Based on the popular LUA language, this easy to understand scripting language features everything from "for, repeat and while" loops, to "if/else" conditions, functions, variables and tables (associative arrays). Paired with the built-in action (function) library and full mathematical and Boolean expressions, there's simply nothing you can't achieve. Of course, we've also built in an "Action Wizard" and "Code Wizard" so even complete novices can create powerful interactivity!

More Window Styles
Window style choices include standard, flat, kiosk and even custom shapes with flexible window masks. Control the visibility of your application with options for running on the taskbar, system tray, hidden, fixed position and "always on top".

Professional Content Gallery
We've included hundreds of pieces of highly useable, royalty-free, professionally designed content for use in all of your projects. Choose from abstract backgrounds, photographs, bullets, bars, panels, sound effects, music, buttons, flash movies, video and tons more. The Professional Edition includes even more!

Built-In CD Burning
Integrated CD-R burning eliminates the need for third-party mastering software. Just click on Publish, insert a blank CD-R disc and you're only minutes away from a custom CD! It couldn't be easier to put your work on CD-R.

Real-Time Audio Mixing
While the Standard Edition includes real-time mixing of background music, sound effects and voice-over narrations, the Professional Edition comes with support for up to seven simultaneous audio channels. While hardware mixing is used if available, the fallback software mixing routines are among the world's fastest.

Extensive Action Library
While AutoPlay Media Studio 5.0 Standard Edition contains a library of basic object functions and a handful of system actions for doing routine tasks such as opening document files, the Professional Edition takes it to another level entirely. It includes a built-in library of over 360 easy to use actions so you can produce some truly amazing applications - without having to be an advanced programmer. There are actions to handle everything from text file editing to system registry changes. Executing programs, opening documents, folder browsing, splash screens, drive information, file copying, web downloads, shell operations, string manipulation, zip archives and a full mathematical function library are all included, plus many more.

Timer Events (Professional Edition Only)
Featuring millisecond resolution, the new "On Timer" event makes it possible to add timeline-style effects to your applications. With full control over starting, stopping and configuring the timer, the possibilities are endless.

Spell Checker
The Label, Paragraph and Button objects feature an auto-correcting, customizable, "as you type" spell check mode. Multilingual dictionaries ensure that everyone can benefit from double-checking their text.

Enhanced Video Playback
AutoPlay Media Studio 5.0 no longer relies on the Windows Media Player control for embedded video playback. By interfacing directly with the "DirectX" subsystem, video playback is smoother, faster and compatible with more system configurations than ever before.

More Publishing Options
In addition to the built-in CD-R burning option, you can also choose to output your work to a hard-drive folder (e.g. to create an installer or manually burn your work to CD), to an ISO CD image or even as a single-file compressed executable that's perfect for sending by email or web.

Background Music Playlist
It's now super easy to create a background music play list. Just select your audio files (including the audibly superior OGG format), set a repeat mode and you're done. Control over the volume level is also included.

Automatic File Management
It's now easier than ever to keep your project resources and supplemental files together in one place. Simply drop all of your content onto the AutoPlay Media Studio 5.0 workspace and it automatically gets categorized and stored with your project. Everything from images and sounds to documents, programs and data files are now stored in the same place.

Application Dependency Checking (Professional Edition Only)
Checking for the existence of "required" applications such as Adobe Acrobat, Apple QuickTime, Microsoft PowerPoint and others are now just a checkbox away. We've included nine standard modules with the Professional Edition, and it's easy to drop-in additional modules at any time.

Startup Movie
There's now a quick and easy way to play a video or flash movie file before your application starts. Options to play in full-screen mode and control over the media sizing is also included.

Action Wizard
You don't have to be a wizard to create powerful software with AutoPlay Media Studio 5.0. We've built the wizard into the software! Simply choose the action you want from a categorized list (complete with on-screen interactive help), fill in the requested information fields and the wizard does the rest. You don't have to know anything about scripting or programming – just fill in the blanks and you're done. Making changes is just as easy – click on the line you want to change and press the "edit" button to go back to the original form. It's really that easy.

Action Plug-Ins (Professional Edition Only)
The new script engine in AutoPlay Media Studio 5.0 Professional Edition features support for incredibly powerful "Action Plug-Ins". These plug-in modules can extend the runtime in infinitely powerful ways, such as adding support for databases, image processing and statistical functions. Tight integration with the design environment – including "intellisense" style code completion and syntax highlighting – makes them just as easy to use as built-in actions. These action plug-ins will become available through Indigo Rose as well as third-party developers, thanks to Indigo Rose's freely available plug-in development kit (SDK).

Debugging Window
Find out exactly what's happening "behind the scenes" with the new debugging window. It's indispensable for tracking down problems in complex projects. A real time-saver.

Color Syntax Highlighting
For all you power scripters out there, you're going to love the new intellisense style action editor. If you've outgrown the "wizard" style action interface and want to get down to some truly fast and efficient scripting - we've got you covered. The AutoPlay Media Studio 5.0 action editor features color syntax highlighting, code completion, function highlighting, as-you-type action prototypes and Ctrl+Space function listings.

Global Functions
Once you get into making advanced, cutting-edge applications with AutoPlay Media Studio 5.0, you'll find this feature to be indispensable. Advanced developers can create their own custom functions that can be called by any object's event handler. For example, if you want to perform the same action sequence for multiple "On Click" events, you could simply create a function and call that rather than duplicating the script in each location.