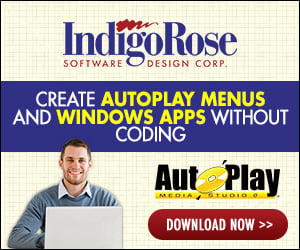 AutoPlay Media Studio 5.0 features a new Microsoft Word style "as-you-type" auto-correct spell checker for most objects and fields where you would expect to type in text.
The spell checker also supports multiple dictionary files, which is a huge bonus for people creating projects for international audiences. To conserve space in the download we only include one common dictionary ("SpellUS.lex") file, but there are a total of 13 additional dictionary files available for you download as needed.
Optional International Dictionaries
Choose a dictionary file to download. Click it and then choose "Save As". Once the file has been completely downloaded, follow the installation instructions below.
Installation Instructions
To install one of these dictionary files:
1. Download the desired language file.
2. Unzip it to your AMS50 program folder's data subfolder. Assuming you installed the software to the default location, your dictionaries should go in either
C:\Program Files\AutoPlay Media Studio 5.0 Professional\Data
or
C:\Program Files\AutoPlay Media Studio 5.0 Standard\Data
3. Set your active dictionary from within the AMS50 software by going to Edit > Preferences and then clicking on Spell Checker.
Enjoy!