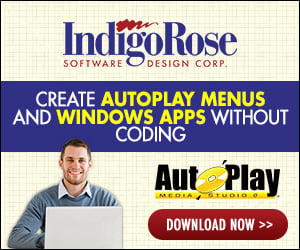 User's Guide & Scripting Guide
Thanks to popular demand, the AutoPlay Media Studio 5.0 User's Guide and Scripting Guide are provided in Acrobat PDF format. This allows for both easy viewing and printing of the manuals. However, we have also partnered with
OnDemandManuals
for those of you who want a professionally printed and perfect-bound manual.
What's in the User's Guide?
With over 320 pages of step by step tutorial, the AutoPlay Media Studio User's Guide is an indispensable resource. It is divided into 10 lessons which cover everything from getting started to working with graphics, text, buttons, audio and video. You'll also find extensive coverage of the design environment, alignment tools, actions, pages and publishing your project to CD and other targets. Along the way, you'll be gently introduced to the powerful new scripting engine - including a chapter on looping, decision making and functions.
What's in the Scripting Guide?
The Scripting Guide offers an in-depth look at the incredible new scripting engine introduced in AutoPlay Media Studio 5.0. Based on the fast and powerful scripting language called "Lua", you'll find this new scripting engine adds nearly unlimited flexibility to your projects. It's very easy to learn and use - even for people new to scripting. This 62 page guide introduces it to you, with chapters on variables, expressions, operators, control structures, functions, tables/arrays, string manipulation and more. There's even a full chapter on debugging your scripts!
Get it Printed for You!
We know that some people just love the look and feel of a professional perfect-bound book. So, in order to satisfy everyone, we've teamed up with OnDemandManuals. If you'd like to purchase the printed User's Guide and/or the Scripting Guide, please
click here
. All printing and shipping is handled by OnDemandManuals using the most recent version of the source documents. You can be sure you're getting the most up-to-date information available - and the quality is excellent with full color covers and a perfect-bound spine!
View/Print it Yourself!
Both guides are provided in Adobe Acrobat PDF format. After installing AutoPlay Media Studio 5.0, you'll find links to them on your Start menu, under Indigo Rose Corporation > AutoPlay Media Studio 5.0. This allows you to either view the guides on your monitor or to print them out on your printer.
If you do not have Adobe Acrobat Reader installed on your system, you can download it
here
.
Video Training CD's
Just getting started with AutoPlay Media Studio 5.0? You'll find that it's super easy to use and very powerful. Indigo Rose provides lots of material to help you get the most out of your software, including a User's Guide, a Scripting Guide, Knowledge Base, How-to articles, these community forums and free technical support.
What's more, we also offer a series of high-quality video tutorials. They're an excellent way to learn and get up to speed as rapidly as possible. In fact, our own technical support staff uses them for training purposes too!
Free Getting Started Video Tutorials at AutoPlayZone!
Want just an overview? Try out the free video tutorials at
http://www.autoplayzone.com
. You'll learn how to start your project right, work with pages, buttons and how to publish your project to CD-ROM and as a compressed .exe file. You'll also find additional free samples at
http://www.speedytraining.com
.
CD-ROM Volume 1: The Basics
This video training CD-ROM outlines the basic features of AutoPlay Media Studio 5.0 by Indigo Rose Software, and provides detailed video instruction on getting started using this powerful multimedia design tool. This CD is ideal for first time users as well as experienced users who wish to reinforce, refresh, and/or expand their basic skills. Contains chapters on Introduction, Getting Started, Your Workspace, Creating Your Project, Adding Objects, Laying Out Your Project, Adding Actions and Publishing your Project. Please visit the Speedy Training website for a full breakdown of all chapters and topics covered.
More info...
CD-ROM Volume 2: Objects
This video training CD-ROM teaches various aspects of objects in AutoPlay Media Studio 5.0, and provides detailed video instruction on objects, object actions, and object usage. This CD-ROM is ideal for experts and beginners alike who wish to expand their knowledge of AutoPlay Media Studio objects and their usage. Contains 65 lessons with 4+ hours of instruction. Chapters include Working With Objects, The Button Object, The Label Object, The Paragraph Object, The Image Object, The Flash Object, The Video Object, The Listbox Object, The Input Object, The Hotspot Object, The Web Object, The Plug-in Object, Object Interaction, Example Projects and more.
More info...
CD-ROM Volume 3: Advanced Training
This video training CD-ROM teaches advanced AutoPlay Media Studio 5.0 concepts, and includes detailed chapters on tables, functions, fscommands, and much more. Individual video lesson lengths vary from under 2 minutes to over 11 minutes each. Contains 56 lessons with hours of instruction. Sections include Functions Made Easy, Tables Made Easy, Macromedia Flash Usage, PHP/MySQL Integration, The Button Maker, Deploying Documents and Workflow Quick Tips.
More info...
Note: Speedy Training provides the the official video training series for AutoPlay Media Studio 5.0 and has been fully reviewed and endorsed by Indigo Rose Software, the developers of AutoPlay Media Studio 5.0. While geared towards users of the Professional Edition, most of the contents can be applied to using the Standard Edition as well.