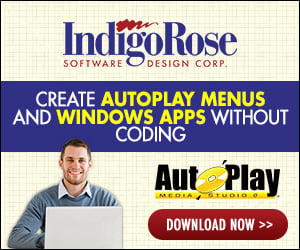 Greetings!
With all of the great new things being created for use with AutoPlay Media Studio 5.0, we've put together a handy master database listing all of the available addons and plugins.
http://www.indigorose.com/ams/all_add_ons.php
This is the definitive list of all plugins and addons that have been officially approved by Indigo Rose Software. The database contains addons created by us, as well as a number of third party developers - with many more on the way. Be sure to check back often!
You'll find new objects, powerful actions, video training, books, media content (like graphics, music and sound effects) and lots of other cool stuff. Some are free while others are available for a reasonable price (starting at $14.99). In any case, they'll save you tons of time and add real value to your projects.
Keep in mind that object and action plugins do not work with the Standard Edition! Be sure to read the compatibility information for each addon. That's the best way to decide if an addon is right for you.
Let us know what you think!