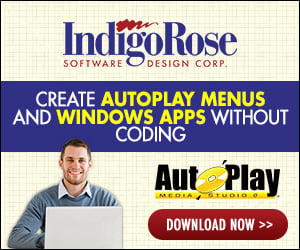 Hi Everyone,
I wanted to give all of our regular forum users advance notice of the new site we are launching at
http://www.autorun.org
.
It's a place where you can upload and download images, project files, examples, templates, plugins and other resources for use with AutoPlay Media Studio. There are also sections for articles, a code exchange, a web link database, product reviews and tons of other fun and useful stuff.
Like these forums, it is something that will rely on contributions from users like you! Of course we will keep seeding it with content, but to really make it useful, we're asking for your support. Please sign up for a free account and contribute what you can - images, buttons, scriptlets, example projects, reviews, your favorite web sites or even tips and articles - basically anything that would appeal to users of AutoPlay Media Studio and people doing multimedia, video, graphic design, presentations and the like. Even some non-related but fun stuff is great too!
Please let us know here in these forums what you think of the new site! It's something that will grow and change with what people want to do there. Are we missing something? Need more categories? We really want your input.
Additionally, as a little incentive, the top 10 contributors as of March 30, 2004 will get one of our classic AutoPlay Media Studio T-shirts (value: priceless) and a free Liquid Cabaret or Style Workshop CD-ROM (your choice - value: $59US). The top 5 contributors will also get 10,000 free banner impressions (subject to content approval).
Of course, everyone who contributes gains the eternal gratitude of their fellow users and the untold good graces of the cosmos, as well as that warm and happy feeling inside...
Check it out at
http://www.autorun.org
today!