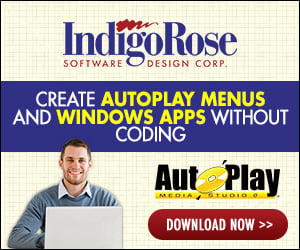 Today we spotlight the "WinButton" object plugin by Indigo Rose Software. This addon is available for
online purchase
for only $19.99 US.
This addon requires AutoPlay Media Studio 5.0 Professional Edition. It does not work with the Standard Edition.
WinButton Object
Use this object plugin to add standard Windows-style buttons to your AutoPlay Media Studio 5.0 projects. WinButton objects automatically take on the look of the operating system, including Windows XP styles. They'll look just like they do in thousands of familiar Windows applications!
You can easily customize the text and alignment, as well as choose between "push" and "toggle" styles. Actions are provided to both get and set the button text as well as the current up/down state. Events for handling mouse clicks, focus and keyboard presses are all included.
For all of the technical details, please see the
online help file
.
Click Here for More Information and a Free Demo
.
Screenshot of the WinButton object plugin being used in a sample project: