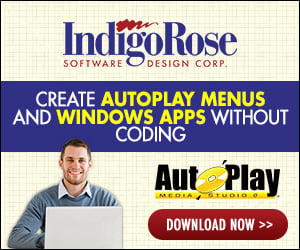 Today we spotlight the "CDAudio" action plugin by Indigo Rose Software. This addon is available for
online purchase
for only $24.99 US.
This addon requires AutoPlay Media Studio 5.0 Professional Edition. It does not work with the Standard Edition.
CDAudio Actions
Add full CD music control to your AutoPlay Media Studio 5.0 Professional Edition projects, using the CDAudio action plugin. Whether creating your own custom CD player application, working with "mixed-mode" CDs, or anything in-between, the CDAudio Action Plugin is the plugin for you!
This plugin comes with a full set of actions giving you extensive control over the CD, such as play, pause, stop and seek. There are also actions to query the CD contents, get track length information, set the playback volume and choose play modes such as single, loop and random.
Imagine creating a CD that plays normally in a regular CD player and launches a custom player interface when inserted into a computer. The possibilities are endless!
For all of the technical details, please see the
online help file
.
Click Here for More Information and a Free Demo
.
Screenshot of the CDAudio action plugin being used in a sample project: