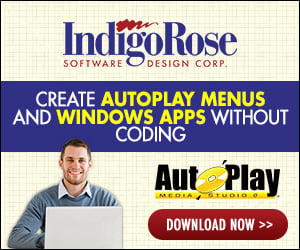 Today we spotlight the "ComboBox" object plugin by Indigo Rose Software. This addon is available for
online purchase
for only $29.99 US.
This addon requires AutoPlay Media Studio 5.0 Professional Edition. It does not work with the Standard Edition.
ComboBox Object
Presenting a list of options in a compact fashion has never been easier! Our ComboBox objects gives you the freedom to offer either a standard dropdown list or a "combo" of dropdown list plus a textual user input field, for those times when you don't want to restrict the user to only the list items.
You control the loook and feel of the object, such as font face, text color, size and background color. Features such as selectable auto-sort and events for handling item selection and key presses round it all out. As you'd expect, there are ample actions included for adding, removing, inserting and updating the list items at runtime.
It's a complete package that's sure to find a spot at the top of your toolbox!
For all of the technical details, please see the
online help file
.
Click Here for More Information and a Free Demo
.
Screenshot of the ComboBox object plugin being used in a sample project: