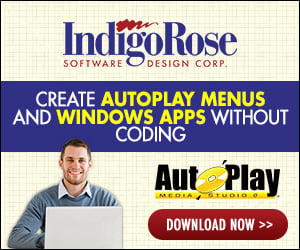 Today we spotlight the "FTP File Transfer" actions plugin by Indigo Rose Software. This addon is available for
online purchase
for only $39.99 US.
This addon requires AutoPlay Media Studio 5.0 Professional Edition. It does not work with the Standard Edition.
FTP File Transfer Actions
At last, a way to incorporate the file transfer protocol (FTP) into your application! The FTP plugin allows you to connect to and navigate an ftp server within your application, either behind the scenes, or with user input.
Whether creating your own FTP client, or simply offering the option of downloading from a pre-specified FTP server, this plugin is an excellent addition to your toolbox. Shipping with actions to connect, navigate, upload and download, this is a full-function plugin. As well, the FTP plugin supports resumed downloads. Purchase yours today, and expand the functionality of your applications!
For all of the technical details, please see the
online help file
.
Click Here for More Information and a Free Demo
.
Screenshot of the FTP File Transfer actions being used in a sample project: