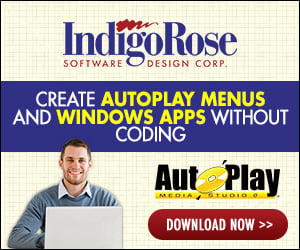 For all the PowerPoint users out there, Geetesh Bajaj of
Indezine
magazine has just published an article/tutorial about using AutoPlay Media Studio 5.0 to create a professional interface for your PowerPoint presentations. It covers everything from working with the PowerPoint 2003 viewer, to outputing your presentations, creating a project in AutoPlay Media Studio 5.0 and burning an autorun CD. It's very comprehensive, and works with PowerPoint 97, 2000, 2002 and 2003.
The full article can be found at:
http://www.indezine.com/products/pow...pautorun3.html
Introduction
Let's look at a typical corporate scenario. Your company has PowerPoint presentations that have to be burned on CDs and distributed. PowerPoint 2003 has an amazing Package to CD feature but how do you burn 15 presentations to a CD and provide a well designed interface to the recipients of the CD?
Ideally, you'll want your created CD to autorun in any CD or DVD drive. You'll also want the audience to be presented with a professional menu splash screen which makes selecting options to view particular presentations as easy as clicking a button. The splash screen also has to reflect the corporate identity of your company. The buttons themselves should react to clicks and:
Run individual presentations
Provide text information
Provide live links to websites
And more...
Actually, it's an easy task to accomplish. Just follow this step-by-step tutorial and you'll have created an autorun CD with all your PowerPoint presentations in no time. The same procedure can be followed for a single presentation as well.
Keep reading at
http://www.indezine.com/products/pow...pautorun3.html
!