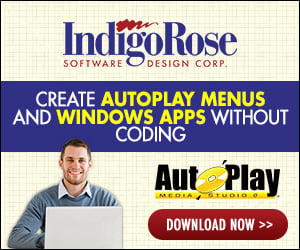 Today we spotlight the "Progress Meter" object plugin by Indigo Rose Software. This addon is available for
online purchase
for only $24.99 US.
This addon requires AutoPlay Media Studio 5.0 Professional Edition. It does not work with the Standard Edition.
Progress Object
The Progress object plugin for AutoPlay Media Studio 5.0 Professional Edition makes it incredibly easy to add a powerful progress meter to your projects. Simply drop it onto your page and you've got a very slick looking way to display progress feedback, just like you've seen in many other professional products.
Whether you need to show a percentage of a completed task, or a simple indicator guage to keep your user's informed, this is a great way to do it. Customize the progress bar with ease -- change the background and bar colors, text, fonts, vertical or horizontal orientation, step size, min and max values, and style (standard or XP).
For all of the technical details, please see the
online help file
.
Click Here for More Information and a Free Demo
.
Screenshot of the Progress object plugin being used in a sample project: