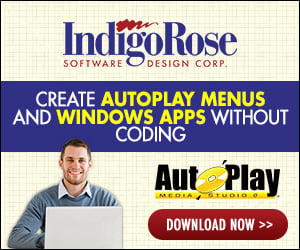 Sizing my Application to Particular Screen Dimensions
Document ID: IR10007
---
The information in this article applies to:
AutoPlay Media Studio 5.0 Standard Edition
AutoPlay Media Studio 5.0 Professional Edition
---
SUMMARY
This article describes how to resize your application based on the user's screen resolution.
DISCUSSION
The easiest way to ensure that your project plays on everyone's computer is to design it to the lowest common denominator. Every computer system capable of running an AutoPlay generated file can support 640x480 resolution.
Our default project size is compatible with a 640x480 resolution.
If you desire to have a project that makes use of the user's entire screen, no matter what their resolution, the easiest way is to design a separate project for each resolution. Also create one 'master' project that determines the user's resolution (System.GetDisplayInfo), and have it launch the appropriate sized application automatically.
If both of these options are unacceptable, AutoPlay does include actions to resize and reposition objects on your page. It is possible to determine the user's resolution, and then appropriately position and size every object in your page. Obviously this is not the preferred method due to the sheer time the application would take to design. Please note that resize and reposition actions are available in the Pro Edition Only.

KEYWORDS: Size, Resize, Screen, Resolution, Maximize
---
Last reviewed: September 22, 2003
Copyright © 2003
Indigo Rose Corporation
. All rights reserved.