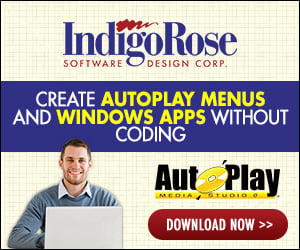 Running the Microsoft PowerPoint Viewer Directly from the CD-ROM
Document ID: IR10011
---
The information in this article applies to:
AutoPlay Media Studio 5.0 Standard Edition
AutoPlay Media Studio 5.0 Professional Edition
---
SUMMARY
This article describes how to run Microsoft's PowerPoint viewer without installing it on the user's system.
DISCUSSION
It is much easier to simply require your users to install the PowerPoint Viewer themselves from the Microsoft website. You can then simply use a File.Open action to view the PPT file. If you require another option, please read the following information, but be aware that Indigo Rose can not provide you with further assistance or legal guidance on implementation details.
Download the PowerPoint viewer from Microsoft's website (ppview97.exe).

Create a folder named 'PowerPoint' in the root folder of your distribution (CD_Root).

In the 'PowerPoint' folder, create two folders: Installer and Setup.

Copy the PowerPoint Viewer installation file (ppview97.exe) to the 'Installer' folder.

Right click 'ppview97.exe' and click 'Open With WinZip'.
If you do not have this option, then you do not have WinZip installed. Download WinZip from www.winzip.com.

WinZip opens a window with all files from ppview97.exe listed. Double click 'PPView1.cab'.

Select all files within 'PPView1.cab', and copy them to the 'PowerPoint' folder that you created earlier.
Be sure to copy all of the files to PowerPoint, and not to subdirectories. When this step is completed, all the files should be in the 'PowerPoint' directory; Installer will contain only ppview97.exe, Setup will be empty, and there will be no other folders.

In the 'PowerPoint' folder, delete the following:
- Acmsetup.exe
- Acmsetup.hlp
- Mssetup.dll

Move 'ppview.dll' to the Setup folder.

Your folder tree should look similar to this:
CD_Root
+PowerPoint
++installer
++setup

PowerPoint contains 24 files, and two subfolders: Installer and Setup.
Installer contains just ppview97.exe.
Setup contains just ppview.dll.

Change the extension of your PowerPoint presentation from PPT to PPS.

Use the following action to open the PPS file:
path_short = File.GetShortName(_SourceFolder);
File.Run("PowerPoint\\PPVIEW32.EXE", path_short .. "\\Autoplay\\Docs\\mercedes.pps", "", SW_SHOWNORMAL, false);
Please note that in this case, the Microsoft PowerPoint viewer is not installed on the user's system. It is run directly from the CD-ROM.
KEYWORDS: PowerPoint, CD, Viewer, Install
---
Last reviewed: September 24, 2003
Copyright © 2003
Indigo Rose Corporation
. All rights reserved.