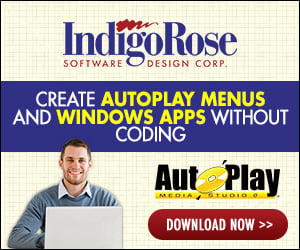 Running in Full Screen (Kiosk) Mode
Document ID: IR10026
---
The information in this article applies to:
AutoPlay Media Studio 5.0 Standard Edition
AutoPlay Media Studio 5.0 Professional Edition
---
SUMMARY
This article describes how to make your application run in Kiosk mode (full screen).
DISCUSSION

AutoPlay Media Studio has an option to run your application in a full screen mode. This mode does not resize your project to fullscreen, but rather fills the empty surrounding space with a background color of your choosing.

To enable this option:
Choose Project > Window Settings from the menu.
Select the Kiosk Mode option.
Select your desired background color.
Click OK.
MORE INFORMATION
For more information please see the following topics in the AutoPlay Media Studio 5.0 help file:
Program Reference | Projects | Window Settings | Appearance
KEYWORDS: AutoPlay Media Studio 5.0, Window, Settings, Kiosk, Full Screen
---
Last reviewed: September 26, 2003
Copyright © 2003
Indigo Rose Corporation
. All rights reserved.