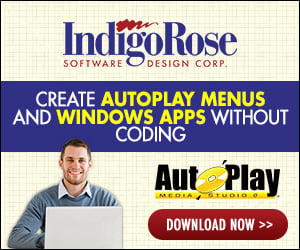 Playing a Video Before Your Application Starts
Document ID: IR10034
---
The information in this article applies to:
AutoPlay Media Studio 5.0 Standard Edition
AutoPlay Media Studio 5.0 Professional Edition
---
SUMMARY
This article describes how to play a video before your application loads.
DISCUSSION
AutoPlay Media Studio contains an option to add an intro video to your presentation.

To accomplish this:
Choose Project > Startup Movie from the movie.


Enable the Play Startup Movie option.


Add your movie file and configure the window settings.


Click OK.
If you disable the feature Allow Click to Skip, the movie will remain visible until it is complete. If this option is enabled, the user can 'click through' your startup movie and get right to the application.
KEYWORDS: AutoPlay Media Studio 5.0, Load, Video, Intro
---
Last reviewed: September 26, 2003
Copyright © 2003
Indigo Rose Corporation
. All rights reserved.