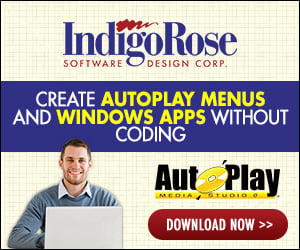 Creating a Mixed-Mode CD
Document ID: IR10081
---
The information in this article applies to:
AutoPlay Media Studio 5.0 Standard Edition
AutoPlay Media Studio 5.0 Professional Edition
---
SUMMARY
This article describes how to create a mixed-mode CD for use both in a stand-alone audio player, and on a computer.
DISCUSSION
Create a Mixed-Mode CD
CD's can be created in mixed mode, meaning that the CD contains both your application for use on a computer, and up to 98 music tracks for use in a standard audio CD player. Mixed-mode CDs are often used to create an "enhanced" audio CD which plays normally in a regular CD player and presents additional multimedia content when placed in a computer's CD-ROM drive.
There are three basic types of mixed-mode CDs:
Data in Track 1
Description:
This form of mixed mode CD places the data track as the first music track on the disk.
Pros:
The CD is recorded as a Mode 1 ROM, therefore it can be played on virtually every CD ROM drive produced.
Cons:
Some CD players will attempt to play the data track. Most new players will skip over the track because it is listed as "data" in the CD's table of contents, but some players will attempt to play the data track as audio, resulting in a very loud noise (like the screech of a fax machine).

This method is typically only used in situations where it is unlikely that the CD will be played in a CD audio player.
Pre-Gap / Track-Zero
Description:
This form of a mixed mode CD hides the data track in the pause before track 1 begins.
Pros:
Older CD players do not typically attempt to play the data track.
Cons:
If the user rewinds the CD into the data track, the data can be played back as audio, resulting in a very loud disconcerting noise.
This type of CD does not conform to the official standard and may not be compatible with some players or operating system software.
CD Extra or Enhanced CD
Description:
This form of a mixed mode CD contains two sessions (a multi-session disk). The first session contains up to 98 audio tracks, and the second session contains the data track. Audio CD players can only 'see' the first session, and thus will not play the data track. Most CD-ROM drives can see both sessions, and will load your AutoPlay application.
Pros:
Even older CD players won't play the data track, so the user's ears and speakers are safe from damage.
This format is the most compatible with both stand-alone CD players and CD-ROM drives.
Cons:
Enhanced CDs are not playable on Photo CD players.
Requires a CD-ROM drive that is able to read multi-session discs.
Conclusion
Our Suggestion:
We suggest that you use the 'Enhanced CD' type, due to its wider scope of compatibility. Virtually any CD-ROM created for Windows 95 or greater supports this format.
The data files will be recognized in Windows Explorer as though there are no audio tracks, because Windows Explorer typically can only see the last session in a multi-session disk. Audio players, on the other hand, typically see only the first session in a multi-session disk. Therefore, both CD-ROMS and stand-alone audio players are able to play the audio tracks.
Burning an Enhanced CD (CD Extra) with Nero:
To burn an Enhanced CD with Nero Burning ROM (6.0 or greater):
Select "CD Extra" and input desired settings.

Add your audio tracks by dragging your audio files to the track window.

Add your data files by dragging them to the folder structure window.
KEYWORDS: AutoPlay Media Studio 5.0, Project, Mixed-Mode, CD, Audio, Data
---
Last reviewed: December 22, 2003
Copyright © 2003
Indigo Rose Corporation
. All rights reserved.