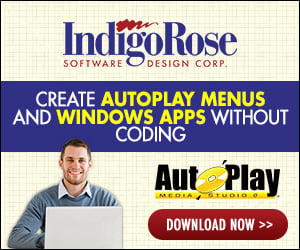 This is a long requested feature, design time zoom and rulers. For now I found a really great, free piece of software which allows you to do that. This software doesn't install anything and is nice and small. Here it is "dRuler":
http://stefan.huberdoc.at/comp/software/druler.html
Stefan seems like a good guy from his site. Great software I tested it quite a bit here today with AMS, seems stable. Only thing is that you may have to turn "stay on top" off and then back on again for it to work properly. Anyhow I managed to get the rulers and zoom to work *extremely* well in AutoPlay Media Studio. This is something I'll be using in AMS from now on, or at least until a future version which may have zoom and ruler functionality.
The beautiful thing is that you can detach/resize the zoom window and basically place it in AutoPlay Media Studio as a quasi-normal looking (not dockable) pane. Very convenient and functional, and I got used to it almost immediately.
BTW I checked out several similar utilities and this one turned out to be the best (and smallest) from what I can see. Ten thumbs up for Stefan Huber. If you like his app, drop him an email and let him know, I'm sure he'd appreciate it...
:yes :yes :yes :yes :yes :yes :yes :yes :yes :yes