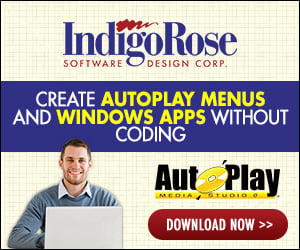 What is AutoPlay Media Studio 6.0?
AutoPlay Media Studio 6.0 is the state of the art in Windows based multimedia application software creation. With its intuitive workflow and drag-and-drop objects, even absolute beginners can quickly achieve impressive results. But despite its world-renown ease of use, AutoPlay Media Studio is a serious development tool. In fact, it's used by thousands of people to create everything from AutoRun / AutoPlay menus and CD business cards, to fully interactive training applications. With AutoPlay, your imagination is your only limit!
Whether you're a long-time user of our AutoPlay products or you're coming to us for the first time, get ready to be amazed. Just some of the features in store for you include: as-you-type spell checking, integrated CD-R and DVD+/-R burning, real-time multi-channel sound mixing, text rotation, "skinable" objects, PNG image support with full alpha transparency/blending, image translucency, timer events, automatic file management and impressive "bare metal" DirectX video playback.
Behind the scenes, our design environment was created with the input of top graphic designers, video professionals and software developers. We wanted it to work the way you do - fast, efficient and totally easy to use. It's also completely visual - point, click, drag, drop and you're ready to go. But when you want to get in there and tinker… Wow! Our new runtime engine is simply incomparable to anything else out there. With the addition of an incredibly powerful free-form "scripting" engine, there's pretty much nothing it can't handle. With over 360 high-level actions (all accessible from the easy to use Action Wizard), creating visually impressive custom software applications is a snap.
More than ever before, AutoPlay Media Studio 6.0 empowers you to create. Use it to build jaw-dropping Autorun Menus and CD Business Cards, or use it for Computer Based Training, Application Development, Demos, Walkthroughs, Presentations, Custom Web Browsers and just about any other multimedia task you can dream up. Don't be held back by your choice of tools - if you can dream it, you can do it with AutoPlay Media Studio 6.0.
What Can I Do With It?
Quite simply, there is no other multimedia authoring tool available that gives you the freedom to create fully interactive, custom software applications as quickly or as easily as AutoPlay Media Studio 6.0.
AutoPlay Media Studio excels at integrating diverse media types such as images, sounds, videos, text, and Flash into a single cohesive presentation. In fact, AutoPlay has been trusted to deliver rock-solid multimedia experiences to millions of people around the world. Users just like you have chosen AutoPlay Media Studio for:
Multimedia Authoring & Application Development
Computer Based Training (CBT) Applications
CD-ROM/DVD-ROM AutoPlay / AutoRun Menu Systems
Interactive Marketing Presentations
Electronic Business Cards
Much more
How Can I Learn More?
There are all kinds of resources available to help get you started. Start with the
Feature List
, and move on to the
What's New
information. Then check out the
Product Tour
video and other
Tutorial Videos
. Finally, we recommend that you
download
the fully featured trial version so you can try it out yourself. It comes with a complete
User's Guide
in PDF format (or available for
purchase
as a printed manual too), as well as a comprehensive
help file
in HTML/Webhelp format.
When you're ready to really put it to work, we make it easy to purchase as well. You can
order online
, or by
phone
or
fax
. We know you're going to be amazed!