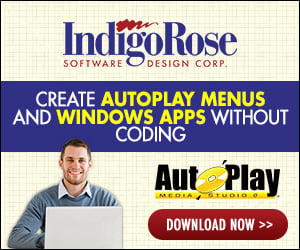 Recently created my first project having purchased your product through a vendor on-line.

Everthing is great in 256 and 16 bit color until I include an avi file at the start.

Under 256 Colour PC's the opening screen is distorted with psychadelic colors straight after the video, but sub screens are ok.

I created a project with low color and high color background, as per page options. The low color screen is 8-bit 256 colors. After a starting video (which was an uncompressed 24-bit), the screen becomes distorted as mentioned above.

The problem was fixed by either converting the video to 16 colours, standard VGA (I tried converting to 8-bit did not fix this). This is unacceptable as the video looks lousy. Secondly, as well as specifying the backgrounds on the first page, I inserted the background image (hi res again) and sent it back in the order of displayed images. Once the video played the screen looked distorted for a second and then refreshed to be okay.

My bet is that the video resets the screen to 16 colour VGA and does not show 256 color images correctly on the initial page. Subsequent pages are ok.

Frustrating.... can you please advise.