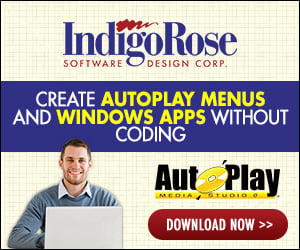 I just had a call from a person who tried to use one of my CDs in their computer. They are running XP Professional. When the CD is put into the computer an error message comes up saying, "Autoplay menu studio 3.0 has encountered a runtime problem and needs to close." The only way to get the icons on his desktop back is to take the CD out of the drive.
If he right clicks on the CD drive with his mouse, the autoplay option does not come up.
Any suggestions?
Thanks.
Does this happen every time the user puts the CD in the Drive? Yes. He has 12 CDs and it happens on CD 1 and CD 2. I don't think he has tried any other ones.
Has the user rebooted? I think he has, though I am not sure. I asked him to change the file associations for Windows Media Player and told him in an email that he would probably have to re-boot after doing this. He has also tried this in a Windows 95 machine, that it use to run in, but now doesn't. I thought maybe the CD was damaged and that was why I had him try a different one.
Does the problem still occur?
What version of AutoPlay 3.0 are you using? He received this CD last Fall, so I am not sure what version I was running then. His error message says 3.0. I usually keep pretty up-to-date on versions so whatever was current early last fall.
On a side note, he is also having sync problems running the mpg movies in Windows Media Player. I didn't ask him how much RAM he has, or if other programs were open at the same time, though I will in my next email to him. Could this be a factor?