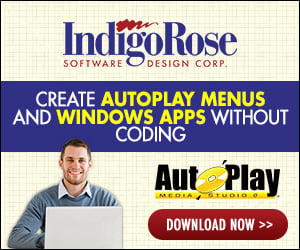 Just found this one, thought it might come in handy for those folks who want to run a browser from the CD. Check it out...
http://OffByOne.com
May be the world's smallest and fastest Web Browser with full HTML 3.2 support. It is a completely self-contained, stand-alone 1.1MB application with no dependencies on any other browser or browser component. For Windows 95, Windows 98, Windows ME, Windows NT and Windows 2000.
An independent online/offline Web browser that loads and runs quickly and reliably on all Windows systems.
Browse without pop-up, pop-over and pop-under advertising windows.
You need to distribute a lightweight, consistent browser that behaves identically on all Windows platforms.
You need a browser that can run directly from a CD, ZIP etc. without installation.
Implements full HTML 3.2 support, including Frames.
Extras include image animation, WAV and AVI playback and the ability to automatically launch external applications for file types that are not supported internally.
Packaged in one self-contained 1.1MB application. Can be compressed down to about 400KB for distribution.
Completely self-contained, does not require the presence of any other browser.
Does not require any installation, browser can be run directly from a CD or over a network.
Has a unique Find-In-Files feature that can search the non-tag text of multiple HTML files.
Has a unique image zoom option.
Limitations:
No applet, plug-in or Flash support.
No JavaScript support (so no pop-up ad windows).
No SSL support (cannot access
https://
addresses).
Oh yeah... it's free.
[This message has been edited by fargus (edited 10-23-2001).]