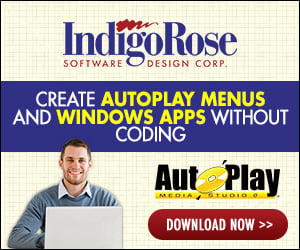 Indigo Rose is pleased to announce the availability of AutoPlay Menu Studio v3.0.0.6. This update is available free of charge to all registered AutoPlay Menu Studio 3.0 owners. You can download the update patch from the following location:
http://support.indigorose.com
New features in v3.0.0.6:
- Added TrueUpdate (TM) automatic product update support. You can now check for product updates at any time by selecting "Help | Check for Update" from the menu. You can also configure the timing of automatic update checking from the Update tab of the Preferences screen.
- Fixed a bug in some of the edit controls in the action properties grid where it would not allow the text to scroll properly.
- Fixed a bug where if you had only Show Border selected under Display Options and clicked OK and then came back to the screen it would not maintain the setting.
- Fixed a bug where if the building menu function failed when generating the configuration file, all internal sound, graphic and video file names would get corrupted in the project.
- Added Windows XP support. Added %IsWinXP% built-in variable. Now %OS% is 6 for Windows XP.
- Added a feature to allow menus to be run at different screen positions. Use the command line option "/X:#" for the horizontal offset (in pixels) and "/Y:#" for the vertical offset.
- Fixed several places in the dialog box actions where the text of the dialogs was not expanded for variables properly.
- Added the built-in variable %SysDrv% - the drive that the user's Windows System directory is located on.