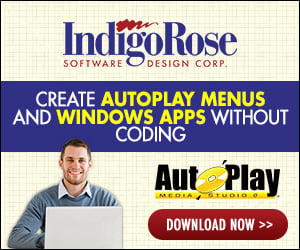 Indigo Rose is pleased to announce the availability of AutoPlay Menu Studio v3.0.0.7. This update is available free of charge to all registered AutoPlay Menu Studio 3.0 owners.
AutoPlay Menu Studio 3.0 has has been TrueUpdate enabled since v3.0.0.6. This will allow you to update your product by choosing "Check for Update" from the Help menu.
Alternatively, you can update your copy of AutoPlay Menu Studio 3.0 by downloading the update patch (created using Indigo Rose's secure Visual Patch product) from the following location:
http://www.indigorose.com/autoplay/update.html
New features in v3.0.0.7:
- Fixed a bug where Windows XP was not offered as an OS condition on actions. This could cause problems when running the menu on Windows XP if the OS condition list was browsed during design time.