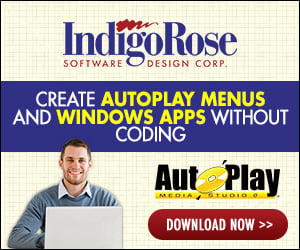 The Setup Factory 6.0 documentation is now available online. This is the same documentation included with both the trial and commercial versions of the software.
If you already have Setup Factory 6.0 installed, you can access the same information from the Help menu and/or by going to Start > Programs > Indigo Rose Corporation > Setup Factory 6.0.
Setup Factory 6.0 Help File
(WebHelp)
Setup Factory 6.0 User's Guide
(300 pages, PDF - 3.3 MB)
Download the Setup Factory 6.0 Trial Version
The 30 day trial version of Setup Factory is fully functional and contains all of the documentation mentioned above.
Download the Trial Version
(9.7 MB).
About Setup Factory
Setup Factory 6.0 makes it easy to build single-file, professional software and data installers. While retaining Setup Factory's unique award-winning visual development environment, this new release features an integrated suite of drag and drop actions, improved variable handling and control structures like IF, WHILE and GOTO. Developers can now add sophisticated actions like HTTP downloads, CGI web form interaction and Registry editing to their installations using a "fill in the blanks" approach.
Setup Factory's Project Wizard assists developers by creating a working installation that can then be edited using the RAD environment. Setup Factory 6.0 also eliminates the burden of manually determining runtime dependencies, with new dependency scanning utilities and integrated support for popular development systems such as Visual Basic and Visual C++.
The new Windows Installer style interface can be customized using Setup Factory's Dialog Gallery and is fully localizable into any language supported by Windows. Pre-made dialogs include static and scrollable text, input boxes, serial number validation, check boxes, file and folder browsing and radio button layouts.
Setup Factory 6.0 includes support for full system modification including shortcut icon creation, registry editing, file manipulation, font and ActiveX registration, .ZIP file extraction, process and service control and more. Additional features important to developers include high-speed data compression, CRC-32 integrity checking, text string manipulation, silent installs, reports and logs, design-time constants and full expression parsing.
Indigo Rose provides software developers with tools to manage the complete software deployment life cycle. From multimedia autorun CD-ROM creation using AutoPlay Media Studio to automated Internet-based software installation, updating and patching with Setup Factory, TrueUpdate and Visual Patch, Indigo Rose offers an array of easy to use solutions.