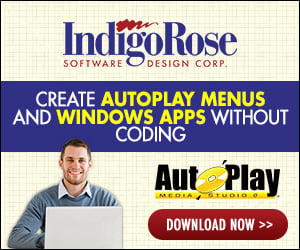 This section is designed to be a reference work, rather than a place for general discussion.

That being said, we encourage you to submit your best fully tested and debugged scripts, functions, examples, sample projects, templates and articles pertaining to AutoPlay Media Studio 6.0. We will also accept articles on topics of general interest to users of AutoPlay Media Studio 6.0, such as CD-ROM's, DVD-ROM's, video, audio and similar technical discussions.

Each submission is fully moderated, so it may take a few days to appear once you post it (we may also edit it to fit certain content and stylistic guidelines as necessary). We can't promise you fame and fortune - just fame! Seriously though, your contributions will be appreciated by thousands of fellow users.

With your help, we hope to turn this into an excellent resource for experienced enthusiasts to share their knowledge and new users to learn from. In turn, those new users will graduate into full AutoPlay Media Studio converts and start the process all over again!

We hope you enjoy this new section and look forward to your comments over in the General Discussion section.