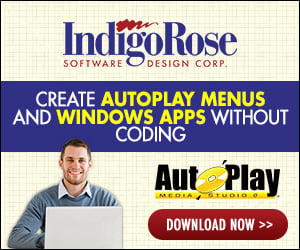 One of the most exciting features of AutoPlay Media Studio is how easy it is to expand the product by dropping in add-ons such as new objects, actions, skins, scriptlets, transitions and detection scripts.
While some add-ons like scrollbar skins and video object skins are incredibly easy to make with just an image editor and a bit of creativity, other add-ons like page transitions, object plugins and action plugins require knowledge of C++ to create.
The best news though is that they're all super easy to use in your projects. Just install the add-on and watch it show up in the AutoPlay Media Studio design environment!
This forum is intented to be a meeting place where both developers and users of AMS skins, object plugins, action plugins, scriptlets, transitions and other addons can get together to share ideas and their work.
Make Your Own Plugins - Free SDK Download!
The SDK contains technical information and sample C++ projects so you can start making your own AutoPlay Media Studio object and action plugins. It also contains full specifications on making "skins" and other creative assets that don't require any programming knowledge all!
To download the SDK (2.85 MB), please
click here
.
From everyone here at Indigo Rose Software - Thanks!